Our goal is to bridge
the gap between business
and the digital world.
WealCoder has a proven track record of delivering impactful and engaging web-based solutions across diverse industries. Our team of experts leverages profound and broad-ranging expertise to help clients build functional web applications, as well as bespoke WordPress themes, plugins, and webflow solutions that cater to their unique business requirements.
Our team of creative and professional designers and developers is dedicated to delivering comprehensive web development services that drive measurable results. We tailor bespoke web solutions to help clients grow their business and achieve their goals with speed and efficiency.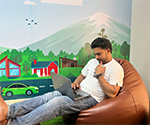 Our company has been conferred with the prestigious Basis Outsourcing Award 2021 in recognition of our outstanding services.
Team
We are dedicated to supporting you in realizing your business objectives and committed to providing optimal services for your Business.
Internation Brands
We are happy to work with global
largest brands